Known for their cleanliness and customer service, Katy and Dave McGregor's business means everything to them. Their passion and client care make them unique and top leaders in their industry. Since starting the company, Katy and Dave knew they wanted to make a difference in their community. Dave's idea for the Pumping for Patients campaign developed in 2014 and has become well known across Muskoka ever since. Five dollars from every pink porta-potty rental and ten dollars from every septic pumping is donated annually to the Huntsville Hospital Foundation.
Katy and Dave knew that they wanted to give back to the community, so the difficult part was deciding which charity to choose. "There are so many incredible local organizations to choose from here in Muskoka" Says Katy. "The reason we chose the hospital is because I know how much Huntsville Hospital means not only to just me, but to everyone here. They have taken such good care of me and my family so they mean everything to us. When we lost our Burks Falls hospital it was scary and emotional for all us locals. I never want to let that happen to Huntsville".
When Katy first proposed the idea of her campaign to the board at Huntsville Hospital, she was extremely nervous that it would be shut down. However, the opposite was proven when the board absolutely loved the campaign and they have supported her ever since. "The response was phenomenal" Says Katy. "That was when we developed our slogan for the Pink Campaign; Take a stand or a seat for the Huntsville Hospital Foundation". Katy's slogan is on the front of every one of their pink potties.
Katy's love to help others extends even further than Northern Disposal's campaign. Although they chose Huntsville Hospital to be the beneficiary, Katy and Dave give potty rentals to other charities at cost price, thus making it non-for-profit. Katy loves being able to help people give back. "One of my favourite parts of the job is that when someone rents a pink potty or gets their septic pumped, I get to tell them that part of what they're paying for is being donated to the Huntsville Hospital Foundation. This way it isn't just me donating, its our clients as well!".
Contrary to popular belief, the colour pink wasn't chosen solely in support of breast cancers, but in support of all types of cancer. The pink porta-potties have had incredible response, especially from women. "Women LOVE the pink! They're over the moon they can rent pink potties" says Katy. "Women tend to gravitate towards the pink and men towards our signature blue and yellow potties so people often rent both for their events. Everyone of course loves the fact that they're donating towards a great cause. The pink is also really unique and will help your event stand out".
One of Katy's favourite parts of running the campaign is the letters she receives. "Its so rewarding to have letters sent to us from cancer survivors and families of cancer survivors appreciating the campaign and our support of somewhere local", she says.
Katy and Dave have raised over ten thousand dollars in the short three years since the campaign has been developed and hope to continue to raise money and help more people with the Huntsville Hospital Foundation.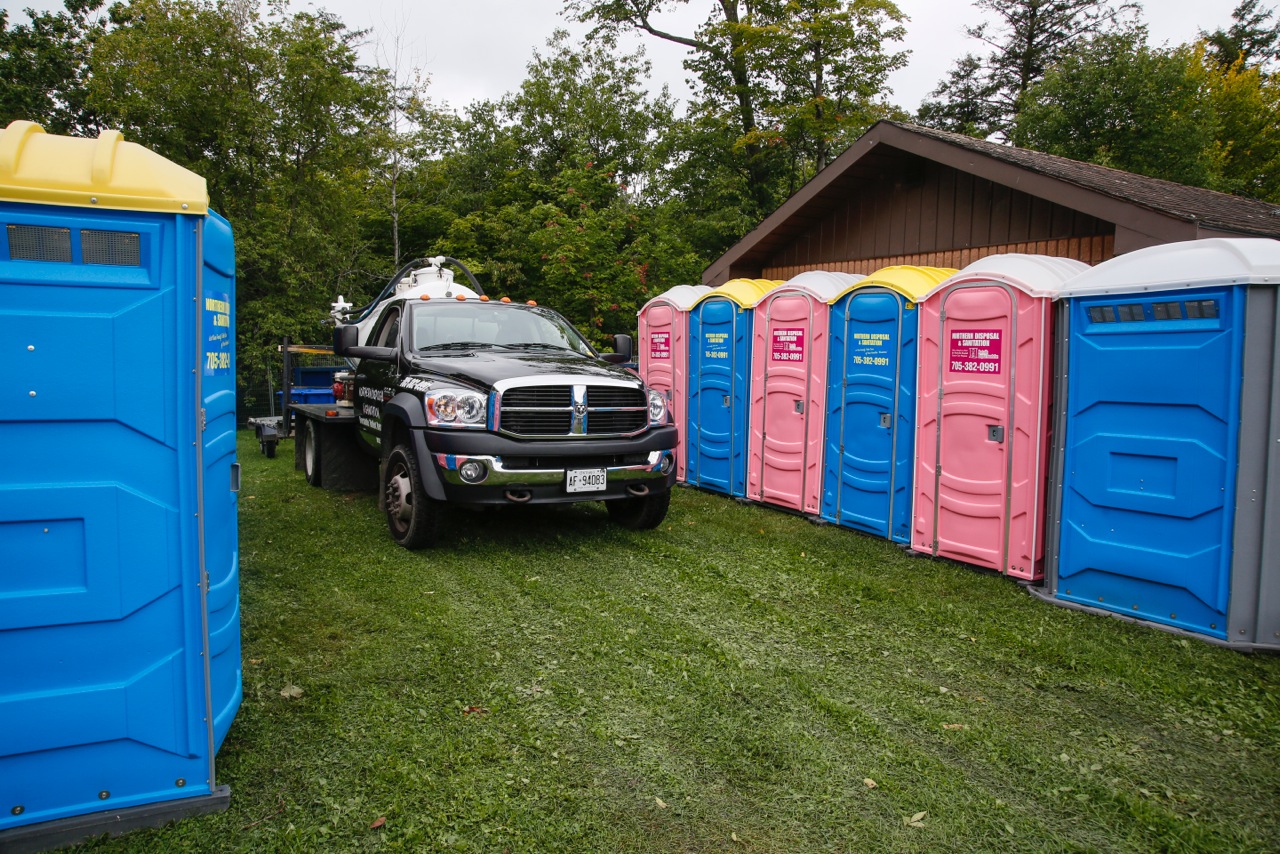 PINK for PATIENTS Campaign - When you rent a Pink Portable Toilet a percentage of the proceeds will be donated to the cancer diagnostic and care programs at our Huntsville District Memorial Hospital. This is a wonderful way to honour and or remember loved ones affected by cancer when having an outdoor celebratory event or family function.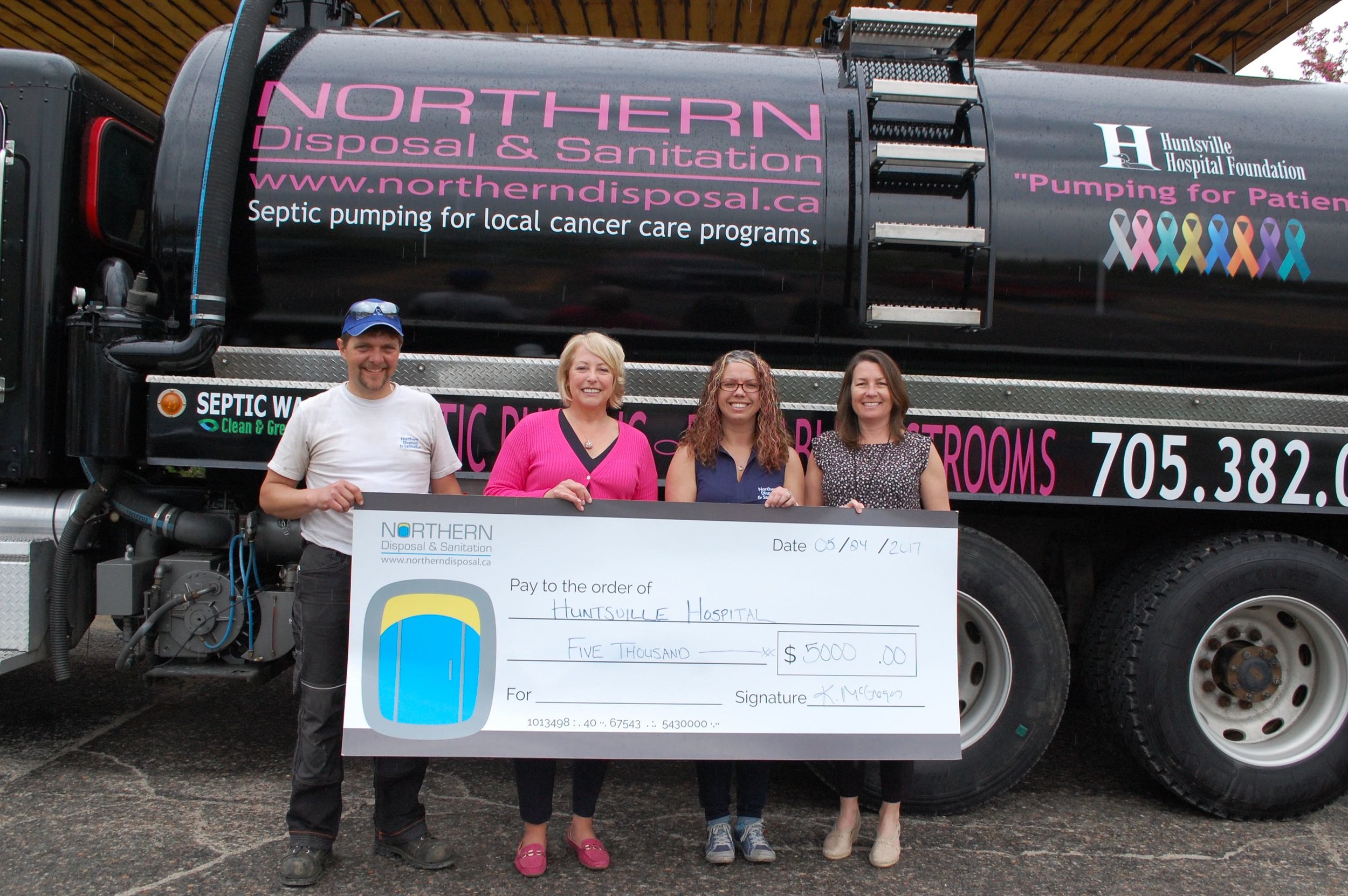 PUMPING for PATIENTS Campaign - When you hire us for septic pumping services a percentage of the proceeds will be donated to the cancer diagnostic and care programs at our Huntsville District Memorial Hospital. PRESS RELEASE on Doppler